Collection: Glass Mosaic Tiles; Material: Glass; Shape: Square; Color: Blue and White; Sheet Size: 300 x 300mm; Chip Size: 23 x 23mm, 48x48mm; Thickness: 8mm
Glass mosaic tiles which can be see through so it gets the name as "crystal", but with the color paints on the back of the mosaic tiles makes thousands of colors are possible.
Glass mosaic tiles are the most widespread mosaic tiles in common use and are used in great numbers by builders and tilers for common tasks such as shower bases and swimming pool edging, but these useful mini mosaic tiles can readily be adapted for artistic craft work.
Each sheet of the glass mosaic tile is approximately 1 sq ft per sheet and is mesh mounted for easy installation of your mosaic tile projects.
Parameters of the Glass Mosaic Tile
Collection: Glass Mosaic Tiles
Material: Glass
Color: Blue and White
Surface Finish: Glossy, easy for cleaning.
Shape: Square
Sheet Size: 300mmx300mm
Chip Size: 23mmx23mm, 48x48mm
Thickness: 8mm
Application: Glass mosaic tiles are impervious to the elements, thus it is great for both interior and exterior use so moisture is not an issue. Glass mosaic tiles are great on floors and walls and have been most popular in bathrooms, spas, kitchen backsplash, wall facades and pools as well as a variety of other applications.
Characteristics: The glass mosaic tile has a zero water absorption rate, and this tile exceeds ANSI standards for water absorption for mosaic tile. It is strong, durable, contamination free, and only the best quality tiles are selected as our tiles are inspected for blemishes before shipment.
Enlarged Photos of the Glass Mosaic Tile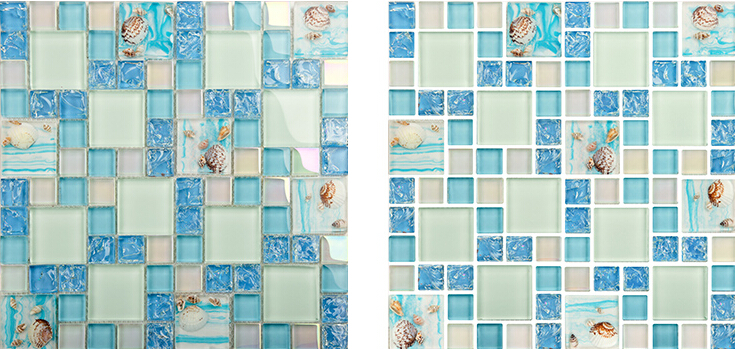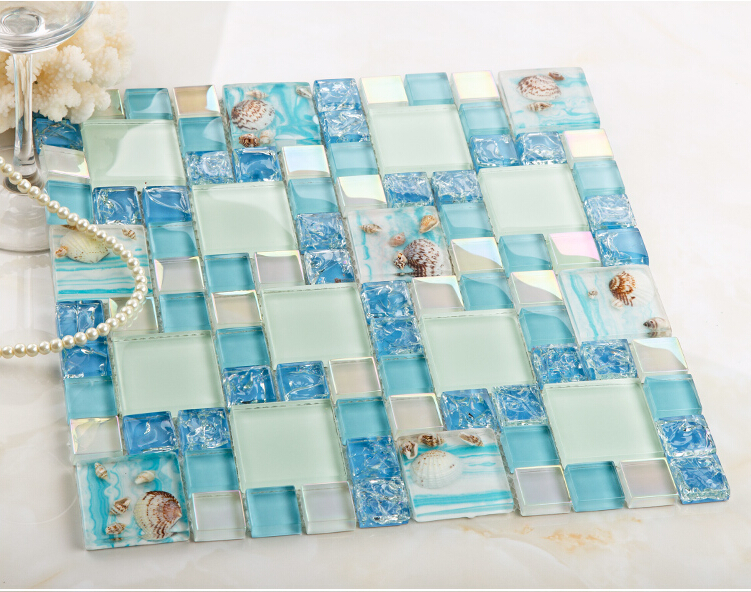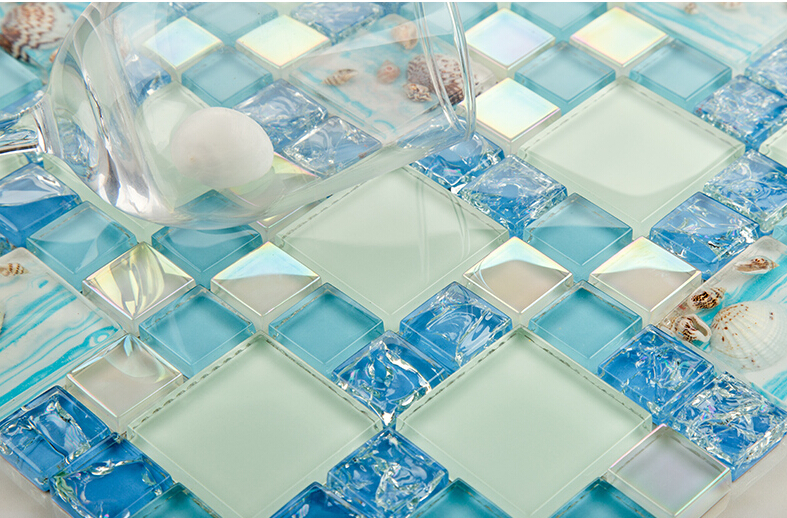 Project Scenes of the Glass Mosaic Tile
Glass mosaic tiles are utilized widely by mainstream designers and architects as bathroom wall and floor tiles, kitchen backsplash wall tiles, hotel lobbies and reception areas wall and floor tiles, corporate office reception areas wall tiles. The natural iridescence adds the taste and richness to the design formula.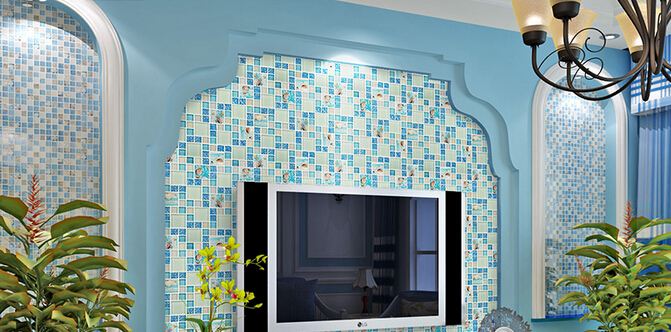 glass with shell mosaic tile crystal backsplash wall and stickers
Mosaic tile installation guide



Mix the powder thin-set mortar with latex additive in bucket that can easily be found in most home improvement stores.




Before laying the

mosaic tiles

, a thin layer of cement mortar should be pasted to the cover surface. Then, fill the joints between each small

mosaic tile

on the net with white mortar paste, press the

mosaic sheet

toward the wall in accordance with the direction of the arrow on the setting paper.






Level up the surface of the

mosaic tiles

towards the wall. Fill up the joints evenly with white grout.




Clean up the remaining grout and adhesive on surface with a soft cloth and tissue after about 1 hour dry.



NOTICE: These above installation methods are suggested and based on our own technical experiences. It is for your reference only. No warranty is implied. For best results, please hire a professional tile installer experienced in the application of glass mosaic tiles, glass mosaic tiles, or mother of pearl tiles.
Also, you can refer to an official glass tile installation instruction from the CTIOA.
World-class manufacturing facility
| | | |
| --- | --- | --- |
| Production floor | Strictly selected raw materials | Quality materials |
| Well-organized production floor | Precision glass cutting machinery | Strictly quality control process |
| Natural gas kiln (the most environmental-friendly kiln) | Technologically advanced kiln | Equipment with the most advanced technology |
Bestselling