Glass tiles are ideal as a kitchen backsplash because of their non-porous properties and stain-resistance. This also means it won't harbor bacteria and germs.
When designing your dream kitchen, you need a backsplash that can withstand wear and tear without compromising beauty. That's why glass backsplash tile is such a popular choice amongst homeowners and kitchen designers. From its durability and appearance to its ease of maintenance and versatility, there's nothing quite like beautiful glass tiles.
Glass tiles are an eco-friendly alternative because of their ability to be repurposed for later use. This means that you can use varying types of glass to create your dream kitchen backsplash. You can even add a personal touch to your backsplash by incorporating recycled glass mosaic tile pieces from your own materials into your design.
Glass mosaic tile comes in an array of shapes, sizes, and colors, allowing you to truly customize the appearance of your kitchen backsplash. Whether you want to create a uniform appearance with a similar shape and size tiles or you're looking to add dimension with varying shapes and sizes, mosaic glass tile allows you to do that. Its versatility offers complete flexibility while designing your dream kitchen.
Because of its location, your kitchen backsplash needs to be able to withstand the wear and tear it will be subjected to over the years. When your backsplash gets dirty, all it takes is a bottle of glass cleaner and a sponge to maintain the beauty of your glass tile. Keep in mind that the glass tile's shiny surface will make dirt splatters, fingerprints, and water stains more apparent, it is easy to restore the luxurious shine of your glass backsplash.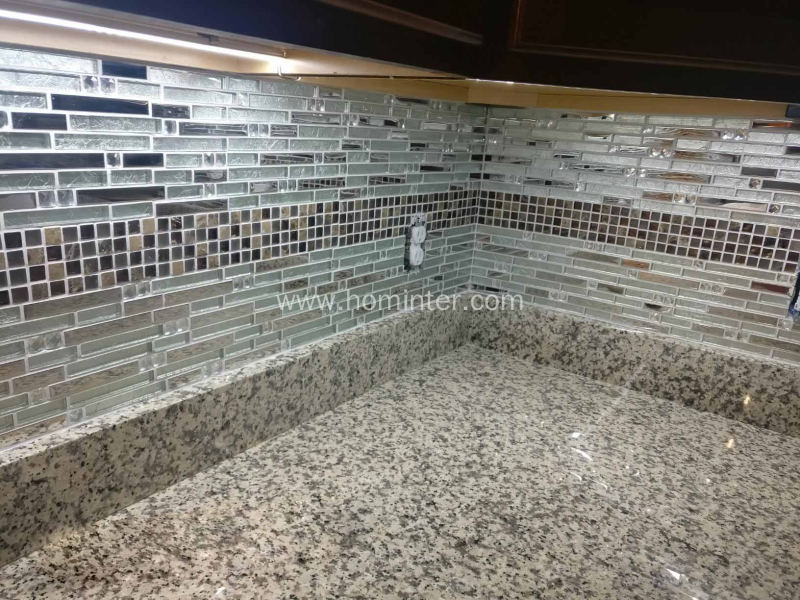 Glass is often seen as a delicate material, many homeowners aren't sure if it's the most durable option for a kitchen. While glass might seemingly be fragile when compared to other backsplash materials such as ceramic, natural stone, or metal, it doesn't mean it won't be able to withstand everyday wear and tear. Glass tiles are a durable choice. They are both water and fire-resistant, making them the ideal backsplash option in a kitchen where fires are more likely to break out.
Tags: backsplash tile, glass backsplash, kitchen backsplash, back splash