Ceramic pebble backsplash tiles offer a unique and natural look, reminiscent of river pebbles or stones. These tiles are made of ceramic material but designed to mimic the appearance of pebbles, adding texture and visual interest to your backsplash.
Ceramic pebble backsplash tiles are available in various sizes, ranging from small pebbles to larger stones. They come in different shapes, including round, oval, or irregular shapes, resembling the organic forms of natural pebbles. Some tiles may feature a smooth surface, while others have a slightly textured finish to enhance the realistic appearance.
One of the advantages of ceramic pebble backsplash tiles is their versatility. They can be used in a variety of design styles, from rustic and natural to contemporary and modern. The tiles can be arranged in a random pattern to mimic the irregularity of pebbles in nature or installed in a more uniform arrangement for a cleaner look.
When selecting ceramic pebble backsplash tiles, consider the color and finish that best complements your space. The tiles are available in various shades, including earth tones like beige, brown, or gray, which mimic the natural colors of pebbles. Some manufacturers may also offer more vibrant options, allowing for customization based on your preferences.
During installation, ceramic pebble backsplash tiles are typically mounted on mesh sheets or individual backing, making it easier to handle and install. Follow the manufacturer's instructions and use the appropriate adhesive and grout for ceramic tiles to ensure a secure and durable installation.
Cleaning and maintenance of ceramic pebble backsplash tiles are relatively straightforward. Regularly wipe them with a mild cleaner and a soft cloth or sponge. Avoid using abrasive cleaners or tools that can scratch the surface.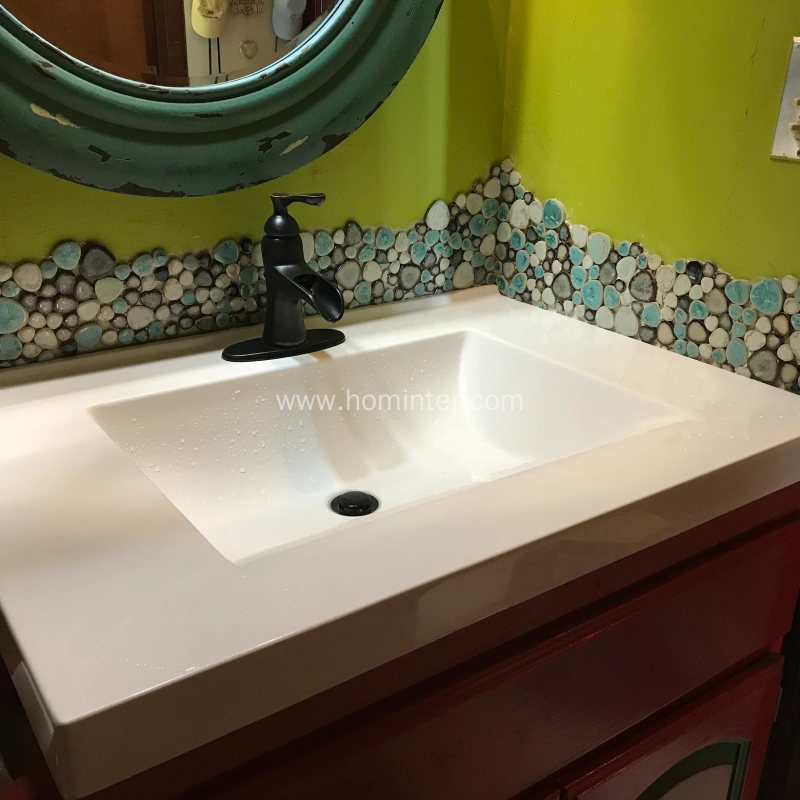 Ceramic pebble backsplash tiles can be an excellent choice for adding a natural and textured element to your kitchen or bathroom. Their unique appearance brings a touch of the outdoors inside, creating an interesting focal point and enhancing the overall aesthetic of your space.