Multicolor glass mosaic tiles are a vibrant and eye-catching option for adding a splash of color and personality to your backsplash, shower, or any other tiled surface. These tiles are made of glass and are available in a wide range of colors and patterns, offering endless possibilities for creative designs.
The multicolor aspect of these glass mosaic tiles means that they feature multiple colors within a single tile or across a collection of tiles. This variation can be achieved through different color combinations, gradients, or even random mixes of colors. The result is a dynamic and visually appealing mosaic that adds depth and visual interest to any space.
One of the advantages of multicolor glass mosaic tiles is their versatility. They can be used in various design styles, from contemporary and modern to eclectic and bohemian. Depending on the color palette and pattern you choose, you can create a bold and vibrant statement or a more subtle and harmonious look.
When selecting multicolor glass mosaic tiles, consider the overall color scheme of your space and the desired atmosphere. You can opt for a complementary color palette that harmonizes with the existing elements or go for contrasting colors to create a striking and dramatic effect.
The installation of glass mosaic tiles can be more intricate compared to larger format tiles. These tiles are often mounted on mesh sheets or individual backing, allowing for easier handling and installation. It's essential to follow the manufacturer's instructions and use the appropriate adhesive and grout for glass tiles to ensure a secure and long-lasting installation.
Cleaning and maintenance of multicolor glass mosaic tiles are generally straightforward. Regularly wipe them with a non-abrasive cleaner and a soft cloth or sponge to keep them looking their best. Avoid using harsh chemicals or abrasive materials that can damage the glass surface.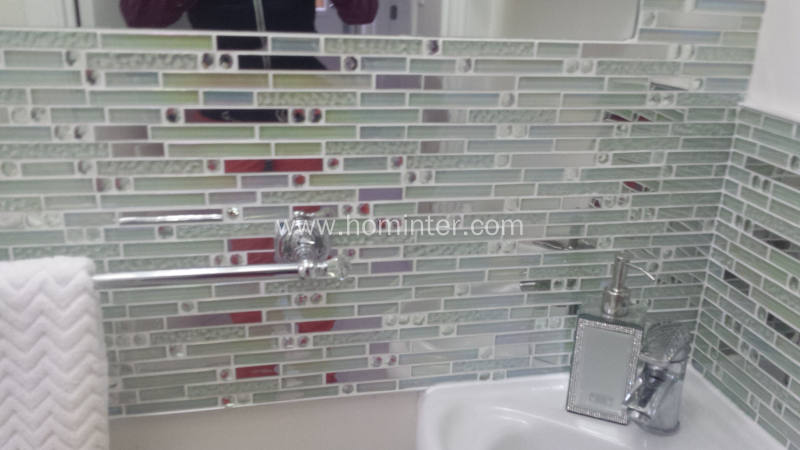 Overall, multicolor glass mosaic tiles offer a beautiful and versatile option for adding color and visual impact to your space. Whether used as a backsplash, shower accent, or feature wall, these tiles can transform a room and create a unique and personalized design statement.