Turquoise porcelain pebble wall tiles are a type of wall covering that features small, rounded pebble-shaped tiles made from porcelain material. These tiles are designed to resemble the look of natural pebbles found along riverbeds and beaches. The turquoise color adds a vibrant and eye-catching element to the wall, creating a unique and contemporary aesthetic.
Porcelain is a popular choice for wall tiles due to its durability, water resistance, and easy maintenance. It is a type of ceramic material that is fired at very high temperatures, making it highly resistant to moisture, stains, and scratches. This makes it suitable for use in areas prone to moisture, such as bathrooms and kitchens.
Turquoise porcelain pebble wall tiles can be used to create a stunning focal point in a room, whether as a backsplash in a kitchen, an accent wall in a bathroom, or a feature wall in a living room. The irregular shape and texture of the pebble tiles add depth and visual interest to the space, giving it a natural and organic feel.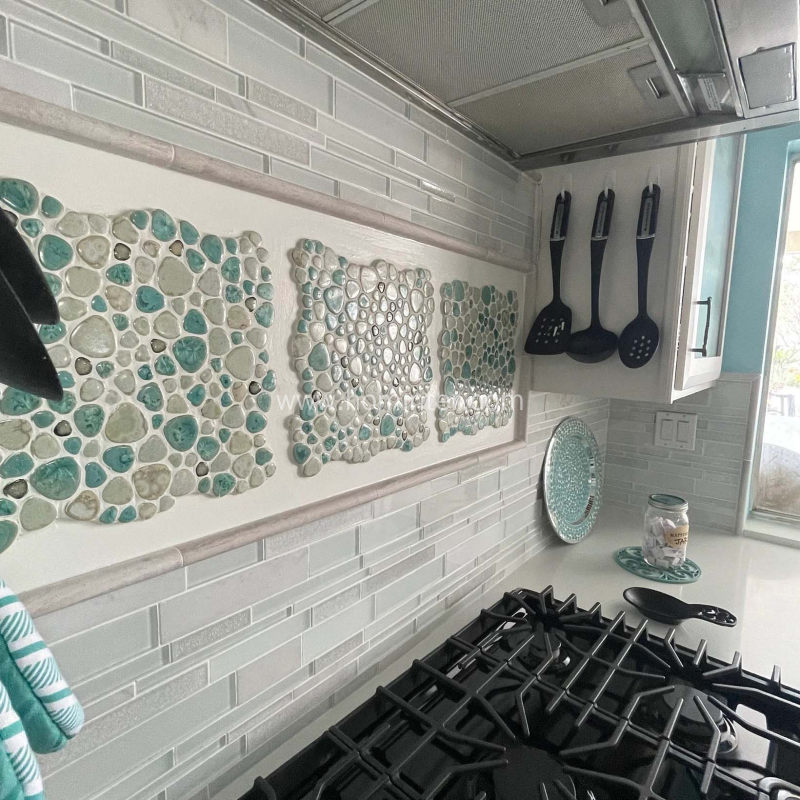 When installing these tiles, it's important to ensure proper surface preparation and use appropriate adhesives and grouts specifically designed for porcelain tiles. Following the manufacturer's guidelines and consulting with a professional installer can help achieve a successful and long-lasting installation.
Overall, turquoise porcelain pebble wall tiles are a beautiful and unique choice for adding a touch of nature-inspired elegance to your interior spaces.
Tags: porcelain mosaic, pebble tile, wall tile, backsplash