White glass metal tiles are a type of decorative tile that combines the elegance of glass with the durability of metal. These tiles typically feature a white or clear glass surface with a metallic backing, creating a sleek and modern appearance. They can be used in various applications, including kitchen backsplashes, bathroom walls, and even as accent pieces in other areas of the home.
White glass metal tiles offer several advantages. Firstly, the glass surface reflects light, making the space appear brighter and more spacious. The metallic backing adds a touch of sophistication and can complement various design styles, from contemporary to industrial. Additionally, the combination of glass and metal creates a resilient and easy-to-clean surface that is resistant to moisture, stains, and heat.
When using white glass metal tiles, it's important to consider the size, shape, and pattern of the tiles to achieve the desired aesthetic. They are available in various sizes, such as square, rectangular, or mosaic-style, allowing for creative and customized installations. It's also worth noting that the metallic backing can come in different finishes, such as stainless steel, brushed nickel, or copper, offering a range of design possibilities.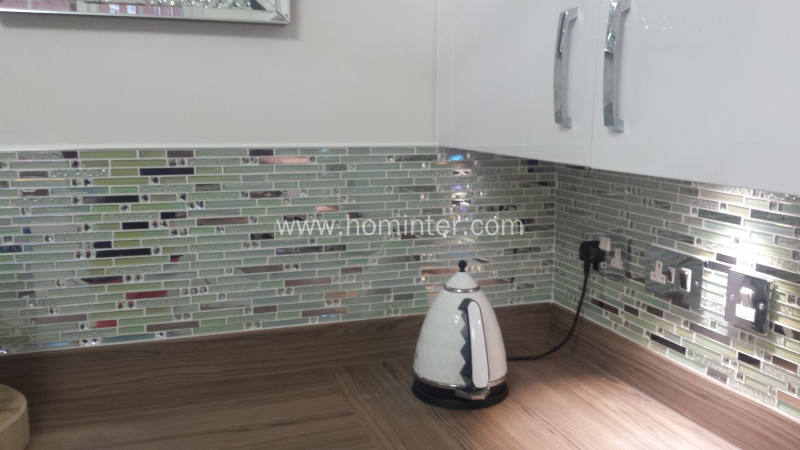 Installation of white glass metal tiles typically requires the same techniques as other types of tiles. They are often mounted using adhesive or thinset mortar and grouted to secure them in place. It's advisable to consult with a professional or follow manufacturer instructions to ensure proper installation and maintenance.
In summary, white glass metal tiles are a stylish and durable option for adding a modern touch to your home. Their combination of glass and metal creates an attractive aesthetic while providing practical benefits such as light reflection and easy maintenance.
Tags: glass metal tile, kitchen backsplash, glass mosaic, white backsplash